Baseball Drills For 8 Year Olds
All across the country there are different opinions on what 8 year olds should be playing.
Should kid pitch start at this age, or will another year of coach's pitch or machine pitch be more helpful?
Many leagues have gone to a combination of both kid pitch and coach's pitch.
More Coaches Pitch

Here is my two cents worth on this subject.
I feel a majority of 8 year olds players would benefit from another year of coach's pitch.
Once kid pitch starts there becomes a large gap of success among players.
There are many 8 year olds who have not had anyone work with them on hitting pitched baseballs.
Thus, there are advanced hitters much more experienced than other players.
Baseball drills for 8 year olds becomes tough because of two different skill levels. Some kids never get a good chance to make up this difference and soon drop out of baseball.
A combination league of kid pitch, and then after three walks in a inning go to coach's pitch is not a bad idea.
It does break the ice on kid pitching, and at the same time keeps the game from being a walkathon.
Lots of leagues report that coaches and parents approve and really enjoy this rule.
My objection would be that most eight year olds are still not ready for kid pitch, even with this rule.
Baseball Tip – Playing Up


My belief, and I did it with my youngest son, is if your eight year old is hitting and throwing on an above average level, then move them up to play with nine year olds and play kid pitch.
I actually moved my son up to a nine year old team when he was seven, and he played with these ten year olds when he was eight.

He was advanced for his age, and he enjoyed playing with kids who could catch and throw the baseball.
He also held his own with hitting kid pitch. The whole experience was a good challenge for him.
I never thought about it with our oldest son, and it was not a good idea for our middle son.
Every child is different, so you will have do your own evaluation and decide.
At ten my son played with eleven year olds and then at eleven he played with his own age group.
If your son plays up in age there is one thing to remember.
When the other boys on the team become freshmen in high school they will not start summer ball until late May or early June because of school ball.
You will want to find a team that is your son's own age by at least the seventh or eighth grade.
Baseball Tip – Baseball Drills for 8 Year Olds


I will start off describing baseball drills for 8 year olds who are playing coach's or machine pitch, and then add a few more helpful drills if your team is playing kids pitch.
If it is your second or third year of coach's or machine pitch you can probably just throw batting practice and do soft toss.
During soft toss you can observe their swings and make adjustments as necessary.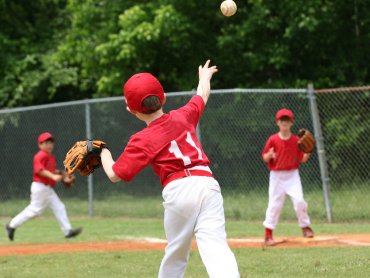 By eight years old throwing should be coming around.
Some of your kids will be able to throw from shortstop to first base and the rest should be able to throw from second base to first base.
The throws might not be on the money, but they should be fairly close.
Baseball drills for 8 year olds is sometimes about just getting it close.
Warm Up Drills

As always, have the boys start practice by warming up their arms playing catch. Watch for any needed adjustments to their throwing motion during this warm up.
They should be stepping towards the direction they want to throw. They should be extending their arms back behind their body and then following on thru once they have thrown the baseball.
Start them out close together and then have them move farther apart. Keep moving them apart until they reach their maximum throwing distance.
Each practice you should see their maximum throwing distance improving.
Again, baseball drills for 8 year olds will be a little rough in the beginning, but improvement is not far away.
Fielding Drills

Besides lots of hitting drills at eight years old you should also start lots of fielding drills.
The fielding drills I have described on other pages of this website have all involved including a runner for some competition.
Eight year olds are probably not ready to field and throw ground balls with runners involved. But it will happen in games so you might introduce runners in your fielding drills after a few practices.
There is nothing new about fielding baseball drills for 8 year olds. It is done just like when you were a kid.
Place fielders at each infield position and hit them ground balls. This is a good age to start teaching them what a force out is at second and third base.
In others words, teach them when they have to tag a runner and when they just have to step on the base.
After they understand the force out rule, and are getting better at fielding and throwing, start working on turning double plays.
Yes, I know, they still struggle to get outs at first. But show them there is more to learn and they need to keep working hard.
Typically at eight years old you are going to play your best fielders on the infield. So fly ball drills to the outfield will be shaky, maybe not even safe.
You could work with the outfield on getting the baseball and throwing it back to the infield.
If they get good at relaying the baseball back in it will help a lot.
Base Running Drills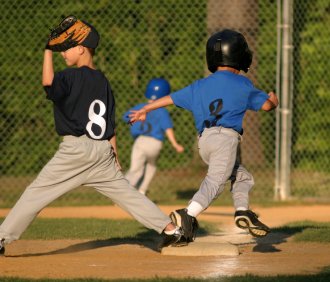 Running the bases is one other area to work with eight year olds on.
By eight years old they should be running thru first base, not stopping on the bag.
And you should start teaching them to watch and listen to the first base coach. He could be sending them to second and they need to watch for that.
And then once they are headed to second base they need to learn to watch the third base coach for new instructions.
Doing running drills at a few practices should lead to good base running in games.
If your team is playing kid's pitch then I also would suggest you read these two articles on throwing and pitching:Baseball Throwing Drills and Little League Pitching Drills.
Those two articles should provide plenty of information for eight year pitchers.


Here is a listing of our baseball drills by ages:
Return from Baseball Drills for 8 Year Olds to Baseball Drills by Ages

Return from Baseball Drills for 8 Year Olds to Helpful Baseball Drills