Batting Drills That Help
Your batting skills are judged differently than just about anything else in your life.
If you are successful only three out of ten times you are doing great.
You know what happens when you only get three out of ten right in the classroom.
Yeah, you have big problems. But getting three hits in every ten at bats will make you a great baseball player.
Sounds easy doesn't it?
Who needs batting practice?
This article is going to tell you about some of the different types of batting drills available on this website.
At the bottom of the article is also a listing of all the batting drills we offer.
OK, back to the article.

Well, as we all really know, hitting is not so easy. You are taking two round objects (a bat and a ball) and trying to hit them squarely together. That's a tough thing to do.
I think we need some good batting drills to help you out.
So let's get started making a great hitter out of you.
There are two things that all great hitters have in common.
Number one, they have lots of confidence.
And number two, they practice hitting a bunch.
You get number one (confidence) by doing number two (practicing) a lot.
Hitting Off a Tee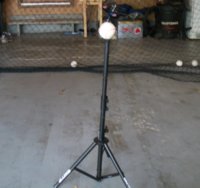 The #1, hands down winner, numero uno best batting drill is hitting off a tee. Yes, that same tee you used when you were four and five.
Using it and taking the same, continuous perfect swing off of the tee is one of the best hitting drills around.
You noticed I said same perfect swing above.
OK, it might not be a perfect swing. But you want it to be a quick, level swing that you are comfortable with.
Practicing with a bad or wrong swing will just make you worse. Get down a good swing and then start hitting the tee. Check out the batting drills below for perfecting your swing.
The other drills listed here are all good, sound hitting drills. But I'm not holding back from you the best practice drill. I gave you the best tip up front.
Mechanics of Hitting a Baseball

Hitting a baseball is hard.
And because of that there is only one right way to swing the bat and you will learn how here.
Check out our detailed step by step instructions.


Possible Changes to Your Batting Techniques

Adjusting your batting techniques might give you big results.
Check out our drills that will help you fine tune your swing.


Baseball Hitting Drills

Baseball hitting drills need to improve the most important part of hitting.
Check out these drills and learn what they improve.


Batting Tee Drills to Learn the Strike Zone

The batting tee is a great tool to work on other parts of hitting then just your swing.
Find out how you can change a negative part of your batting into a big positive.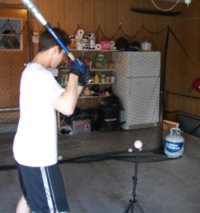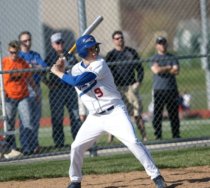 Take what you learn in the batting cages with you to live pitching.
Practice produces success.
And it all starts with the batting tee.

Yes, both pictures are of my switching hitting son.
Batting Tips

Here are some batting tips that will give you the confidence to get that timely hit.
Go up to the plate knowing you will hit.

More Great Baseball Batting Drills

These baseball batting drills will improve your game and correct any swing problems you have.
Trouble stepping out or uppercutting, we have the hitting drill to fix it.


Baseball Batting Training

Hoping to improve your swing and your hitting? Then check out our baseball batting training. We offer great tips and exercises for improving your bat speed.

Are you in a hitting slump? Then dig that old tee out, or have dad pick one up and get to swinging. This will clear your mind when you are at the plate.
You can use any type of ball when hitting off the tee. In fact, if you don't have a cage or netting to hit into, then hitting a wiffle ball works great.
In fact, hitting a wiffle ball might be the best. When you hit a wiffle ball, it will over exaggerate a bad swing. If the wiffle ball is hit just right, then it will fly with no rotation. A spinning wiffle ball means you didn't quite hit it square.
Major Leaguers Use Batting Tees

One of my sons made a team coached by the Kansas City Royals scouts.
They would practice and play a few games at Royals Stadium.
You know what they found in the Royal's practice cages? Batting tees. Yes, it is one of the tools the pros use to practice hitting.
All the batting drills listed on this website are designed to make swinging a bat become natural.
The whole idea is when you step up to the plate and have to face that hard throwing pitcher, you are not worried about your swing mechanics.
Even the new little T Ball player will feel more comfortable stepping up to the plate with some practice swings under his belt.
Batting drills help players of all ages.
Check Out The Tux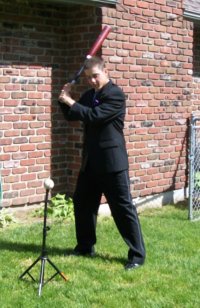 Practice, practice, practice.
Every good hitter takes a lot of good batting practice.
Here on the left I caught my son taking some swings before the High School Prom, lol.
Actually, I had to talk him into letting me get a picture of him in his tux.
Still a pretty good batting stance.
There is nothing more fun than being on a hitting streak.
And there is nothing more frustrating than being in a hitting slump.
Many times the difference between a hitting streak and a hitting slump is just a slight adjustment here or a tweak there.
Don't be afraid to shake things up and try something new.
We each have our own special swing.
Keep working to find the one that is best for you.
Good luck.
The following is a list of Batting Drills found on our website.
We think you will find the answer to about any hitting question in one of these articles.
Some Great Baseball Batting Drills – Drills to Perfect Your Swing
Baseball Hitting Drills – Working on Hand Eye Coordination
Possible Changes to Your Batting Techniques – A Look at Different Batting Styles
Batting Tee Drills to Learn the Strike Zone – Different Drills with a Batting Tee
Batting Tips That Build Confidence – Doing Batting Practice the Correct Way
Mechanics of Hitting a Baseball – Detailed Steps of a Baseball Swing
Hitting Baseball Tips for Your Batting Stance – Fine Tuning Your Batting Stance
Hitting In Baseball Is Simple and Complex – Getting Your Swing back in Sync
Hitting the Baseball without an Uppercut Swing
Would You Be a Good Switch Hitter?
How to Hit a Baseball - And With Power
Baseball Batting Training – Workouts to Increase Power in your Swing
Baseball Conditioning Is A Must – A Year Round Training Program
Home

› Batting Drills