T Ball Practice - How to Get Started



If you are a new t ball coach and a little anxious about your first t ball practice I'm going to let you in on a little secret: few parents and no players have any idea what to expect.
You see, since you are the coach, everyone believes you are the expert. It's only you and I that know this might not be true.
*Sorry to interrupt, but how would you like to be able to download a T Ball eBook that covers everything a t ball coach needs to know? It is 35 easy to read pages loaded with information, problems you will encounter and their solutions. Just click here to see what we are talking about.

Every great coach had his first practice. Now I understand you are not planning on making your living by coaching t ball. But if you are going to do this, then why not be the best that you can.

Coaching t ball might turn out to be one the more rewarding things you have done in the last few years. And this experience all starts with t ball practice.
Practice is where you meet and start forming a bond with the players and parents. You will find that games are too busy to allow mixing with the parents. You are either searching for the next batter or on the field helping the players with fielding.
Let Assistant Coaches Run the Drills
The key to a successful t ball practice is having assistant coaches who are well informed on what their roles are. Let one assistant run batting practice and another teach how to run the bases.

Besides starting practice playing catch, these are the two big drills to run. Batting practice can be run in the outfield at the same time that the running the bases drill is done on the infield.

If you have only one tee, then send just two batters at a time to the batting drill. It would be great to have two tees, and two assistant coaches working with the hitters. Then you could send four or five batters at a time.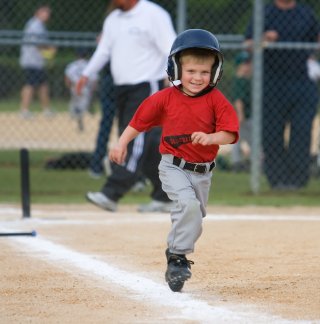 The remaining players will work on running the bases. Many of your players will not have a clue how to run the bases. You should start with a parent at every base helping the players know where to go next.
This drill may worry you in the beginning, but kids pick things up real quick. But you will need to run the drill a lot, and at every practice. You can mix it up some and sometimes let them run all the way around the bases, like they hit a home run.
Add Some Competition to Your T Ball Practice

Kids like a set routine, but they also like some variation in the drills. Or maybe throw in a little competition. In the hitting drills you can mark the longest hit. You could offer a small reward at the end of t ball practice for the winner of the longest hit.
You probably will only have one or two practices a week. So it is important to encourage the parents to work with their kids at home. They might not have a batting tee at home, but they could underhand tennis balls for batting practice.
Cheap tennis balls work great for practice at home. Most kids this age are not going to hit a tennis ball hard enough to do any damage. Also, parents can play catch with their youngsters bare handed using the tennis balls.
Teach the Parents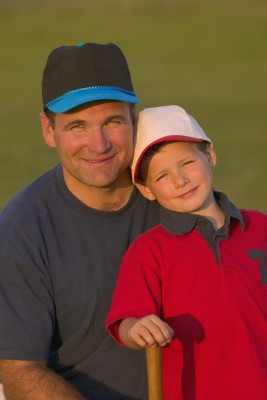 This brings up a new subject. Lots of your parents, both moms and dads, may not have played baseball as a child. They themselves may not know the proper throwing or hitting mechanics. When teaching the players the proper way to throw a ball or swing a bat, which you can find here on our website, have the parents gather around.

You see, often times you need to teach the parents as well as their kids. Asking all the parents to gather around will include some the parents who feel awkward about asking for such help.
You may not feel like the t ball expert, but everyone thinks you are. So do a little research here on our site and then use t ball practice to teach the players and parents.
Have you ever heard about complaining little league parents?  Trust me; they even exist at the t ball level. But win your parents over by helping them teach their kids, and you greatly reduce the chances of having upset parents. Instead, you probably just made a new friend for life.

Here is a listing of our T Ball articles. Each one is different and offers valuable information on coaching t ball. We think it is beneficial to read each one.
Coaching Tee Ball From the Start
Tee Ball Drills - Part I - Tee Ball Practice Drills
T Ball Drills - Part II - Game Day
Good Luck!