Baseball Strength Training Program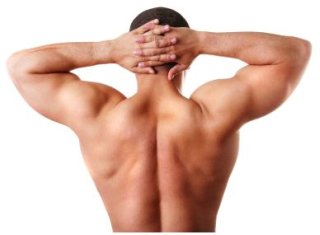 Yesterday I was talking to my youngest son, Brian, while he was dressing.
He turned around to get a shirt off his bed and I noticed his bare back.
Boy, I had forgotten what a baseball season of pitching can do to a pitcher's back.
This summer my son was lax in his baseball strength training, and his back told the story.
The picture on the right was not his back, just what he wished his looked like.
The time of year now is October during his senior year of high school.
His almost year long baseball journey has finally ended. It started in January with his summer team's weekend workouts.
March 1 was the first day of the high school baseball season and last weekend was his final tournament of the season.
A lot pitching had come out of his arm this year.
His Back Muscles Were Out of Whack
His arm started to bother him during the last month of the fall baseball season, and now I knew why.
You see, pitching puts a strain on the pitchers throwing side. My son's right side back muscles were much bigger than the left side.
The left side of his back looked small and deformed compared to his right side.
And this is not good. A body out of balance will become injured.

Baseball Strength Training Is Needed By All Players
Yes, baseball strength training should be done by all players, not just pitchers.
Hitters go through the same motion over and over when swinging a bat. This swinging rotation builds up some of your muscles and not others.
Again, your body becomes out of balance and ripe for injury.
You need a program of baseball strength training.
Build Strength, Not Bulk
In every article on baseball training we have stated that baseball players do not want large bulky muscles. Leave those for the football players and life guards.
All baseball players need to be flexible and explosive and developing large biceps or abs does not help either.
It may not give you the he-man look that you want, but it will translate into improving your baseball skills.
Year Round Program
Your baseball strength training program should have four phases.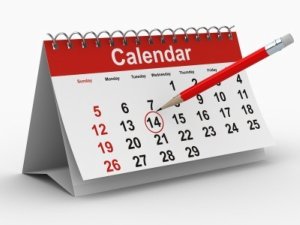 The first phase should begin about three months before you begin playing games. This training period should be the most intense. You should be working hard at least three times a week. The idea here is to peak just before the games begin.
Once you are playing games, then the second phase starts. The idea during the playing season is to work hard enough to maintain the strength you gained during your non-playing days, and to prevent injuries. This training period lasts as long as you are playing games. Working out once or twice a week should be enough.
After your games are finished, then the rest phase starts. You have worked hard and earned it, so take a month or so off. Just remember to keep track of the time and not let the down time slide into two, three or four months.
And after your month off, start your baseball strength training program back up again. Start slow and build your strength and endurance up to the point that when phase one starts, the all out training period, your body is ready.
Don't Take a Training Phase Off
You must make your baseball strength training be a twelve month process.
My son that I mentioned before had worked very hard over the winter months to tone all his muscles and have his body in good balance.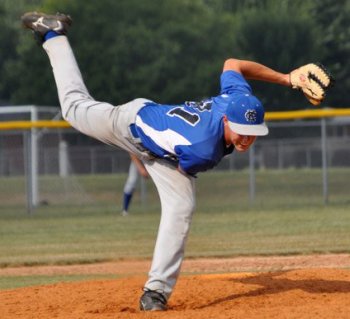 Brian had to because he has a very violent pitching delivery and must work hard to prevent arm injuries.
However, he dropped the ball during the summer season.
A few years before Brian had some arm soreness and we took him to a doctor.
The doctor showed us that the problem came from his imbalance in back muscles.
His right and left back sides looked like they came from different people. The doctor suggested that Brian would need a workout program to prevent such imbalance, and he would need to stay on it.
This last spring, coming off the high school season and heading into summer ball, Brian had continued to work hard at keeping his body in balance and in shape.
However, once his summer team started traveling, he pushed aside his workouts.
Now, while looking at his back, I was seeing the results of that non-action.
The right side of his back is large and you can feel a few knots. The knots are the throwing muscles that have been overworked.
The left side is smaller, and appears to slump down. This is not a body in balance.
What Exercises Should You Do ?
There are many workout websites that offer specific baseball strength training programs.
You will want to find one that meets your starting point and objectives.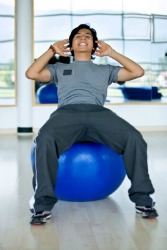 Look for programs that use polymeric exercises and medicine ball drills. The only weight lifting needed is your own body weight.
It is used in exercises like pushups and pull ups.
Once you get older and play at higher levels, you will play many baseball games.
And to play at this level you are going to need a baseball strength training program.
This program will need to be a year round process.
Work hard and you will reap the benefits.
Here is a listing of all the baseball training pages found in our website. We hope you find some useful information in these articles.
Training For Baseball

Baseball Strength Training

Baseball Training Drills

Baseball Batting Training

Pitching Exercises

Baseball Conditioning

Baseball Weight Training

Youth Baseball Training
I would tell you "Good Luck", but if you are working hard, you won't need any luck.
But "Good Luck" anyway.

Return from Baseball Strength Training to Baseball Training Drills

Return from baseball Strenght Trainging to Helpful Baseball Drills