Training For Baseball
The first thing to do in training for baseball is hide from the football coach, ha.
The football coach wants to get you stronger by bulking up your upper body.
Playing football is all about brute strength.
Baseball is more about being flexible.
If you pump a bunch of iron and build up your chest area, then you will become muscle bound.
You lose all flexablity with large bulky muscles. And, in this type of shape, you are more likely to have an injury playing baseball.

It may look great on life guards and body builders, but I'll bet that guy below here pumping iron can't hit a fastball.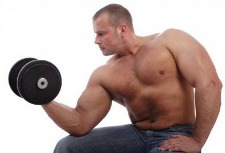 And being muscle bound across the chest will slow down your bat speed.
When your bat speed slows down, then the bottom falls out of your batting average.
It can also affect your pitching motion, and we know that is not good.
So some drills designed for baseball is what you need. Where do you begin with training for baseball?
Let me tell you what my youngest son's summer team did. It all happened by accident.
My son, Brain, was about 14 at the time and he had developed some pain in his throwing arm and shoulder.
We went to an orthopedic doctor and among other things, he suggested our son should see a trainer for rehab.
Baseball Tip – Check Out a Trainer

This doctor just happened to know a good trainer for baseball players.
This trainer, Ryan, worked with a major league pitcher. So we hooked up with the trainer and he told us if we would continue to work with him, Brian's chances of an injury would go down greatly.
And after a few sessions we believed him.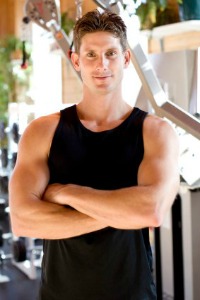 He would put our son thru the ringer. We had all thought Brian was in great shape, but not so much.
During Brian's workouts Ryan never had him lift weights.
He told Brian to never lift weights over his head. That would be too hard on his shoulders.
Instead Ryan had him use bands to build up his strength.Anyway, here is where it really gets good.
After the rehab period and insurance money ran out, the cost was on us.
And while it is not real expensive, it is also not cheap.
But Brian and I came up with the idea that everybody on his team needed these workouts.
Team Workouts Save Money
So Ryan and I held a team meeting and got everybody to sign up.
One parent even got his church to let us workout there twice a week over the winter.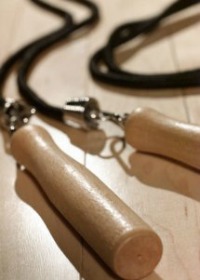 And our sponsor picked up the cost. But it was only going to cost each player $5 a session. Not bad.
This plan worked out good for Ryan, us and everybody on our team.
Every year this team we would have a couple of kids leave the team for one reason or another.
So in the fall we would hold tryouts. The fall after we started working with the trainer, we had three times as many kids tryout.
Everybody had heard about our team having a trainer and they wanted to join us.
And I've got to say I don't blame them.
Your Searching Efforts Are Worth It
It may take a little doing to find the right trainer for your team, but let me tell you it is well worth the time and effort.
The training was and still is so good for the players.
Oh, the boys could learn the exercises on their own, and you could buy the bands, but the motivation of the trainer is what makes it so good.
The trainer will drive them hard, encouraging them all the time. He also tracks their progress, and gives them drills to do at home.
Even if you only have three or four boys to split with, it is well worth it.
Another Trainer Approach
Another approach to finding help with training for baseball is with school physical educational teachers.
Many P.E. teachers are more than willing to help students with sports training.
If you just want their help to get you started then many will do this for free.
If you are looking for long term help, which you should be doing, then you will probably want to pay the teacher.
There are two things to be careful with when talking to a school physical educational teacher.
One, does this teacher knows or is willing to find workouts designed for baseball players?
As we discussed before, you need to be working with drills that will help your baseball skills.
Working hard with the wrong drills can do more harm than good.
And two, be careful with high school activity rules. Most states have some type of restrictions on high school coaches working with players during the off season.
Be sure to check with the high school athletic or activity director. They should be able to answer that question.
Training for baseball during the off season has become almost a necessity for high school players.
And one of the best ways to get the most out of this training is with a personal trainer.
Here is a listing of all the baseball training pages found in our website. We hope you find some useful information in these articles.
Training For Baseball

Baseball Strength Training

Baseball Training Drills

Baseball Batting Training

Pitching Exercises

Baseball Conditioning

Baseball Weight Training

Youth Baseball Training
I would tell you "Good Luck", but if you are working hard, you won't need any luck.
But "Good Luck" anyway.

Return from Training For Baseball to Baseball Training That Works

Return from Training For Baseball to Helpful Baseball Drills